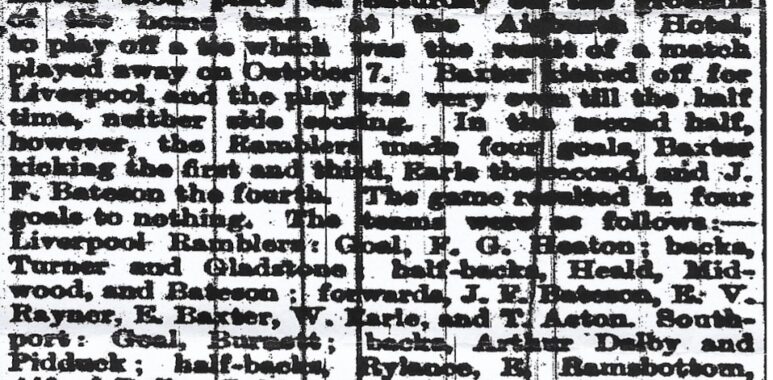 Frederick G Heaton, a Staffordshire Rambler
After holding Southport to a draw, Liverpool Ramblers selected a new goalkeeper for the FA Cup  re-play, 4th of November 1882, that was to take place on their home ground at the Aigburth Hotel.  Edgar C Hornby was replaced under the crossbar by a founder member whose life was destined to be "cut short" by a tragic accident.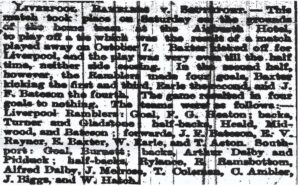 Frederick Greaves Heaton was born, 2nd of January1859, at the  village of Endon in Staffordshire where his Father Edwin was a Land Agent for the local Gentry.  After completing his education at Trent College, Nottingham, Frederick "took rooms" at 168 Bedford Street in Liverpool where he had acquired employment as a Cotton Salesman. He is first reported to be playing football, in a defensive capacity, for a Birkenhead club that had been formed, in 1879, under the guidance of Robert G Lythgoe. Recently moved to Merseyside, he is a member of the Welsh FA committee and an experienced football player. On the 11th of January 1880, Lythgoe and Heaton each scored as Everton were beaten 2-0 in a game that was played on St Annes Field in Birkenhead. Next season both men transferred their services to the Bootle club where Heaton was appointed captain.  Lythgoe – who  took on the role of club secretary – enlisted several new players who had played football while being educated.
First to arrive was Edward Vivian Rayner – who had perfected his skills on the Playing Fields of Eton – followed by Godfrey W Turner and Percy Bateson who had played under association rules at Edinburgh University. These five individuals were in the side when – on the 5th November 1881 – Bootle took on a team of young Lawyers from Blackburn in what was the first FA Cup tie to be played on Merseyside. Bootle won by the odd goal in 3 but were beaten 4-0, in the next round, at Turton. On New Years Eve, Heaton accepted an invitation to play for Everton as they were beaten 4-1 at Northwich Victoria but was back with Bootle for two games that were to be staged inside a temporary canvas enclosure on the local cricket ground. On the 14th of January 1882 Everton were the visitors and 500 people were presant to witness the brothers Ernest & Henry Baxter – both of them Old Etonians – make an appearence in the Bootle side. Ernest gave them the lead but it was Everton who won the game, 4-1. Next Saturday a further page of history was written when Queens Park – the first Scottish side to do so –  arrived at Liverpool to play an exhibition match at the same location. Their visit attracted a great deal of local interest and around 1,000 inquisitive spectators paid to watch them. FG Heaton, to enhance the occasion, sportingly handed over the Bootle captaincy to Liverpool born Frederick Henstock , an invited guest, who had won a "Blue" during his time at Oxford University. Nevertheless, it was the cultured Scots – displaying a brand of football not seen before on Merseyside – who won the game 2-0.  Next season, along with the other public school men, FG Heaton became a founder member of Liverpool Ramblers but his business commitments appeared to have limited his opportunities to play.
He had gone into partnership John Callander Jr – also a Cotton Salesman –  and they had rented a Counting House at The North Mercantile Insurance Building, Tithebarn Street in Liverpool. In 1886 this partnership was dissolved and FG Heaton returned home where, working under the supervision of his Father, he trained to become a Land Agent. He later represented the interests of Sir George Chetwynd, a notoriuos member of London Society, who owned 1,700 acres and a string of Racehorses. The former Cotton Salesman also became the captain of Leek Cricket Club and played at Minor Counties level for Staffordshire.
On the 31st of July 1891 Frederick Greaves Heaton married Amy Deakin  at the church of St Luke and the couple set up home, in Endon, at a property called The Grange. It was here that their only child Edwin was born 2 years later. In December 1903, while visiting Lichfield, FG Heaton was injured in a carriage accident that badly damaged his left leg. He won the praise of all his clients by continuing to the protect their interests until, suffering with gangrene, he was forced to retire. This former Liverpool Rambler died at his home on the 17th of August 1904 and was buried in the cemetery adjoining the parish church of St Luke. Frederick G Heaton was just 46 years old.