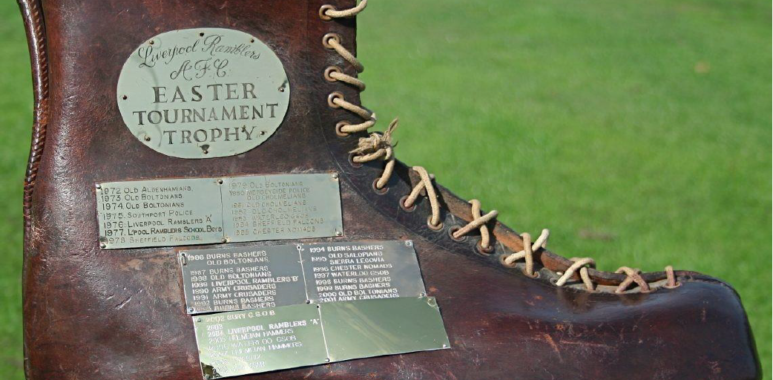 The 66th Easter Festival was, we hope, a huge success. We are very grateful to our sponsors Atherton House Nursery Group, LJ Architects, Keppie Massie, Marpol Seciruty, Traigh Golf Course, Essex Partners Limited, Crosby Fresh, Christopher Drake Catering, Knights plc, The Bridewell, Clancy Consulting and Chris Kingsford.
Seven matches were played on each day. Friday began with Ramblers A taking on Army Crusaders and ending up surprising 7-2 winners.  Fourteen teams including 2 Ramblers teams competed for The Boot, the coveted trophy awarded to the team which scored the most goals over the 2 days.
We were delighted to welcome again Army Crusaders, Hulmeian Hammers (most recent holders of The Boot), The  Honourable Artillery Company, Old Salopians, The Old Bolts, Phoenix Romulus, Phoenix Remus, Pinewoods and Sefton Vets, and just as pleased to see teams joining us for the first time: AFC Marine, Southport & Ainsdale Amateurs and DFC Manchester.
HAC fittingly won the boot in their centenary year, and pictured below is our President Johnny Arthur handing over the boot to Harry Howat.