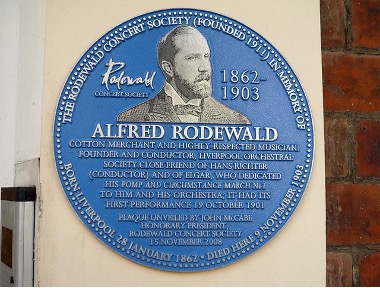 Alfred Edward Rodewald, a Music Loving Rambler
Displayed outside number 66 Huskisson Street in Liverpool, is a Heritage Plague dedicated to Alfred E Rodewald who resided there around the turn of the 20th century. It informs the World that he was an accomplished Musician and close friend of the famous composer Edward Elgar. The son of a German immigrant, Alfred had also appeared in the colours of Liverpool Ramblers AFC.
Charles Ferdinand Rodewald was born – 1820 – into a family of German Merchants who were mainly responsible for developing the Port of Bremerhaven. He later moved to America where he married Amelia Byrne, 30th of March 1853, in New Orleans and had two children. In 1860, the family moved to Liverpool – settled at a residence called  "The Hollies" in Mossley Hill – and took British Citizenship.  It was here – 28th of January 1862 – that Alfred was born and baptised at the church of St Anne on Aigburth Road.
He was sent to be educated at Charterhouse School where he developed a fondness for music and had played Violin in the school orchestra when returned home. According to 1881 census, the Rodewald family are now residing at Onslow Square in the Kensington area of London where Alfred is working as a Commercial Bank Clerk. Also at the house is his younger sister Hilda who is being educated by a resident Governess. Alfred, however, soon returned to Liverpool where he joined his brother John at the family firm of Cotton Brokers who had a Counting House at Albany Buildings on Old Hall Street. His name is present at the foundation of Liverpool Ramblers when they were playing their matches behind the Aigburth Hotel. His name first appeared -25th of November 1882 – in the Liverpool Courier when he represented the 2nd X1, against the Everton 2nd X1, at the Aigburth location playing alongside such people as J Bruce Ismay and Edgar C Hornby. The Ramblers won the game 4-0. The following team sheet- which appeared in the Liverpool Daily Post on the 20th of February 1883 – shows him keeping goal against the Wirral Association at Shrewsbury Park, in Oxon where his side lost 3-0. He made only the occasional appearance for The Ramblers during the next two years then chose to concentrate on Music.

In 1884, Alfred joined the Liverpool Peoples Orchestra – formed by Father James Nugent – becoming its conductor in 1886. Under his guidance, they became part-time professional and changed their name to the Liverpool Orchestral Society. Alfred was living in rooms at 24 Percy Street when his brother John, having contracted Typhoid Fever, died in 1891 leaving him and his younger brother Herman in control of the family business. On the 19th of October 1901, Edward Elgar made public the first two of his Pomp and Circumstance marches at the Liverpool Philharmonic Hall and requested Alfred E Rodewald to conduct them.  No 1 March was dedicated to the former Liverpool Rambler and his Orchestra and No 2 March to Grenville Bantock. This gifted musician had not long taken up residence at 66 Huskinson Street when he contacted Meningitis and died on 9th of November 1903, after a short illness.  The news came as a severe shock to Edward Elgar who was prevented, by his Doctor, from attending the funeral service at Anfield Crematorium. Herman Rodewald, along with his sister Hilda, were the principal mourners and they were accompanied by the members of both their brothers Orchestra and former teammates from Liverpool Ramblers. The casket containing his ashes was later privately deposited in the family vault at Toxteth Park Cemetery.