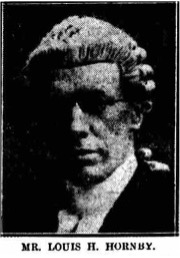 Louis Henry Hornby, an FA Cup Rambler
Almost certainly the first Old Wykehamist to play football for Liverpool Ramblers, Louis Henry Hornby was a member of a Cotton Broking family who would play a prominent role in the expansion of the River Mersey Seaport. Not destined to play a prominent role in the early development of the club, he nevertheless etched himself into the record books by taking part in the first FA Cup tie to be played by a team based in Liverpool.
Born on the 30th of November 1862 at Childwall and was the 3rd child of Henry – an Everton-born Cotton Merchant, and his Wife Sophia (nee Haigh) of Elm Hall, Mossley Hill. According to the 1871 census the family home is now at Wheathill Hall in Roby where Louis is being educated by a resident Governess. Another five siblings, along with seven more employees, also reside at this address. Louis later attended Malvern Wells School before – in January 1875 – enrolling at Winchester College where he rowed and played cricket for the second X1. He left the Hampshire location in 1878 and rejoined his family who were now living at "Beechwood" in the Grassendale area of Liverpool. Louis next studied, as an Articled Clerk, at Liverpool University until July 1884 when he became an admitted Solicitor with Messrs Bateson & Co. It was during his time at University that he became a member of the Liverpool Ramblers.
Under the guidance of secretary Percy Bateson, the club had entered the 1882-83 FA knockout and were granted an away tie against a Southport side who were also making their first appearance in the tournament.  The game took place – 7th of October 1882 – on an open piece of land that once stood on the corner of Old Scarisbrick Road and Ash Lane. There were around 400 people framing the playing area to watch a game that Louis Hornby began playing in the forward line until – with the score standing at 1-1 – he replaced Percy Bateson as Goalkeeper. He proved to be at home beneath the crossbar where, it was reported, "he was twice applauded for a fine show of judgement". Louis held his charge intact until the final whistle signalled a 1-1 draw.

He did not take part in the re-play, that Ramblers won 4-0, and was not in the side that exited the tournament, in the next round, against Bolton Wanderers. Nevertheless, the Old Wykehamist remained keeping goal for the Ramblers second X1 during the time they spent as tenants of Liverpool Cricket Club. In 1884  is listed amongst the membership of both the Incogniti Cricket and Windermere Yacht Clubs.
On the 1st of October 1887 Louis Henry Hornby married Caroline Moulton Fisher Cranston at Birkenhead and moved to live the in South Wales town of Newport. The couple took up residence at " The Laurels" where their first child, a boy, was born in 1888 and brought to the church of St Bartholomew in Roby where he was baptised on Christmas Day.  He was given the Christian names of Louis, after his Father, and Sylvester possibly in deference to his late Grandmother Sophia who was buried in St Bartholomew's Churchyard having died in 1884. One year later a second a child, Nora Margaret, was born and baptised in Newport. Louis H Hornby became a noted local sportsman by joining Newport Cricket Club – where he was made captain – and playing Minor Counties cricket for Monmouthshire. He formed a business partnership with local born Solicitor Fred Vaughan, but this was dissolved in 1901 after he had become the Newport County Court Registrar. His son – meanwhile-  was away being educated in England.
Louis Sylvester first attended Sandroyd preparatory school in Surrey and then Winchester College – between 1903 & 1906 – from where he choose a career in Civil Engineering.  He had been employed on the construction of the Eastern Nigerian railway line when – at the outbreak of World War One – he obtained a commission in the Royal Engineers and began Military Training at Brompton Barracks.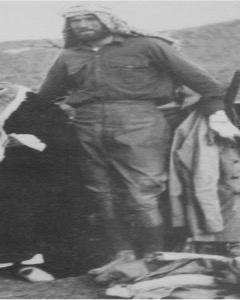 In 1917, Lieutenant Louis S Hornby began taking part in the Secret War, against the Ottoman Turks, on the Arabian Peninsular under the command of Colonel Stewart L Newcombe. During his time in the desert he came in to contact with T E Lawrence who recorded meeting him in his book The Seven Pillars of Wisdom. Lieutenant Hornby, having destroyed over 100 miles of enemy railway line, was temporarily blinded by an explosion until rescued by friendly local tribesmen who got him to safety. His sight was later restored. Louis Sylvester had achieved the rank of Major when he was discharged from the Army in 1919  – having been awarded the Military Cross – and was returned to the family home in Newport.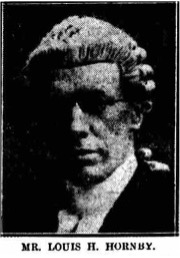 By 1915, his Father had been appointed Deputy Lieutenant of Monmouthshire and was a member of Newport Town Council.  He regularly attended the annual dinner for Old Wykehamists when it was held in Bath and was a member of both the Newport and Royal Porthcawl Golf Clubs where he played until his health declined. Louis Henry Hornby was living at a house called "Quarleston" where he died, 23rd of May 1929, and was buried, after service, in the cemetery at St Woolos Church in Newport. This former Liverpool Rambler was survived by his Wife and 2 children.
Acknowledgements:
Suzanne Foster, Winchester College Archivist.
TE Lawrence, The Seven Pillars of Wisdom.