LRAFC learnt with great sadness of the passing of Jamie on the 28th October 2022.
Jamie joined in 1978, having been at a rugby-playing school, King William's on the Isle of Man. However his prep school was Kingsmead, where he first met Tim Crutchley. It was at a later chance meeting in the Moby Dick in West Kirby that Tim suggested that he should play the soccer code.
Jamie's first game was for the 4th XI under Steve Gardner from where he progressed to the 2nd XI. The high point of his career was being selected a total of thirteen times for the 1st XI, nearly always by Duncan Frazer on the Cambridge tours when the Ramblers were short. 'I started in the 4ths and retired when I was forty with my last game in the 4ths. I'd come full circle.
'My best goal? In one game against Chester Nomads, I got the ball on the edge of their box. Willie backed into their centre-half, fouling him in the process, creating a channel of space, shouted "Go", and I ran through and smacked the ball into the net to win the game 1-0.'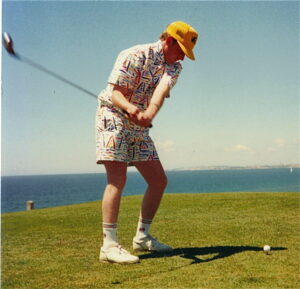 As a character, Jamie has that unique ability to reduce an audience to meltdown. He once stood up and, like Tommy Cooper, just did a little giggle. Everyone started laughing as he stood there, and he gave another giggle, at which the audience just collapsed in hysterical laughter. Charlie Hurst said he had never seen such a naturally funny performance in his life.
Richard Hunt watched with awe as Jamie, in a match against Liobians, wellied the ball from far out and immediately shouted, 'Pick that out, goalie'. Within seconds it was in the back of the net.
Jamie has always worked in the family-run business Sun Valley, one of the UK's leading importers of nuts, started by his father in 1949.