Match Report
And so it came to pass. Eight wins out of eight in November and December came when least expected. This latest win was not looking likely at 1pm when the captain realised that he had misread his emails and released players to the 3rd XI, leaving himself with only ten. Cometh the hour, cometh the Finnegan, who when not vomiting on the side of the pitch put in an impressive shift. Russ Hall left his post golf sandwich half eaten to swell the numbers to twelve, but this was a compact, bijou lineup nonetheless. These twelve were supplemented by Andy Tyrer, who marshalled the linesman's flag with elan for much of the game.
This time last year, a dismal run of from ended with a hugely enjoyable win at home against St Mary's, but in fixtures against out local rivals it was a blip. Last time out in almost forgotten October, St Mary's ran out comfortable 3-1 winners.
The toss was, as usual, lost and so we played into a gale in the first half. This proved to be less of a disadvantage than feared; it certainly didn't slow down Gendall, who raced through after ten minutes, rounded the keeper and put the Vets 1-0 up. Worryingly, though, he created two more similar chances for himself shortly afterwards, and one blasted over the bar and another skewed wide. Worried looks went around the pitch; how important might those misses be?
More impressive, though, was the defensive rearguard. An excellently disciplined back four contained the home side's attacking verve, and there were actually no shots on the Vets' goal in the first half. Although the captain had left playing numbers short, there was an excess of Tesco Express oranges which were shared at half-time with the opposition. The charity outlived the break, a red sea opening up to allow Steve Fletcher a clear view of goal 18 yards out. He did not look that gift horse in the mouth. 1-1.
The remaining 35 minutes were finely balanced, both sides playing attractive football and both missing glaring opportunities to score. Then came Eddie Jones, who but for his sister's 50th birthday party in September would have played every game in 2018. A mazy run ended with a shot which was well saved, but the rebound fell kindly and he coolly slotted home. Ten further minutes of containment were negotiated and that was that. Four wins out of four in November, four out of four in December.
The icing on cake came post match when we were invited to play in a tournament with St Mary's and a team from Stuttgart. Of course we said yes, and in fact will be hosting the event on the 25th May 2019. A lesser event (the Champions League final) clashes but it's too early to worry about that.
Win, lose or draw, it has been a great year. Thanks to all of have played, supported or both. Though winning is better than losing, it is all better than the alternative.
See you on the 5th January 2019; Convocation (who else) away, 2pm kick off.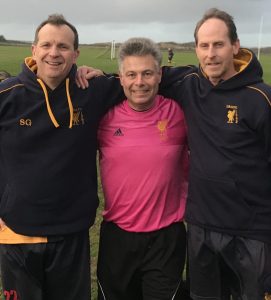 These three played in all eight wins.
Details
| Date | Time | League | Season |
| --- | --- | --- | --- |
| December 22, 2018 | 2:00 pm | Vets XI Fixtures | 2018-19 |
Liverpool Ramblers Vets XI