Match Report
I'm not a big England fan, 66 and all that doesn't really get me jumping around in a xenophobic semi-orgasmic state, but I would assume that they would have trained at somewhere decent. So when you get the chance to go and play there it's not an opportunity to miss. As expected the pitch was pristine, nearly as pristine as the hosts white kit. I was expecting Danny Baker to turn up shaking a box of Daz. A minute's applause was observed for Stu Hooper before kick off with some nice words from Jim Thompson, who had very kindly made the journey from Liverpool to referee the fixture.
Under beautiful blue skies the game got underway with the Ramblers quickly exerting territorial control. I'm not saying the hosts were defending deep, but Bagley's heat map would more likely resemble Mo Salah's than Gary Neville's. That's not necessarily a true reflection on the game to be fair, as Mr Bagley considers full back more of a starting position than something to actually occupy. The men from Liverpool deservedly took the lead midway through the first half with a neat finish from Kinsey, Gendall hit the post with a looping volley shortly after and it looked like only a matter of time before we got our second. A lung bursting run by Gendall was completely ignored by Mornington who had his eye on goal. Unfortunately he had his shooting boots in Tarporley next to the row of Hunter wellies in the porch, the keeper having to scamper off his line so that the shot reached him.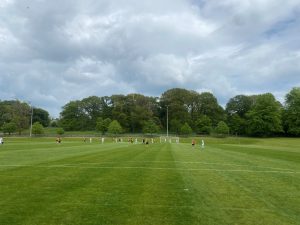 HT 0-1
The second half saw a tactical re-shuffle from the hosts which got them further up the pitch, that combined with some sloppy passing from the Ramblers saw a more even game ensue. That being said Nigel's goal was never really threatened, even despite his eagerness to gift them the ball whilst passing out from the back, it's nice to be invited to play at these venues, but I'm not sure our thanks should stretch to such levels of generosity. I may have sworn at him one time, loudly. It's too long a drive for that nonsense!  Our cause wasn't helped when Gendall went over on his ankle mid-way through the half, I do now have a fitness goal though, to run as fast as he does injured when fit. I won't manage it but you have to set targets don't you.  A fantastic day that was enjoyed by most, their centre forward liked a whinge, if he played as well as he complained we would have got battered, and our CF flounced off to his motor as quickly as his legs would carry him after the game was over, which isn't very quick admittedly. A good fixture that will be looked forward to with anticipation next season, especially as there is the chance of it being played in even more salubrious surroundings, watch this space……. On we go!
Details
| Date | Time | League | Season |
| --- | --- | --- | --- |
| May 29, 2021 | 1:45 pm | Vets XI Fixtures | 2020-21 |
Liverpool Ramblers Vets XI