Match Report
1-0 down, 2-1 up, 3-2 down, won 4-3. A topsy turvy game in a topsy turvy season in which the Vets have won more games than they have lost for the first time for a long time. Pollença have been beaten home and away, HAC have been beaten home and away, we have come out on top in the big local derbies against St Mary's (well won two, lost two) and Convocation. Barring a miracle (not tempting fate here) we will have let in less than 100 goals. What's not to like?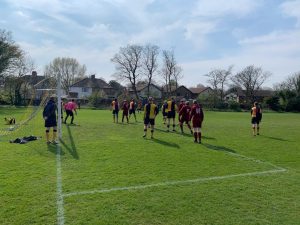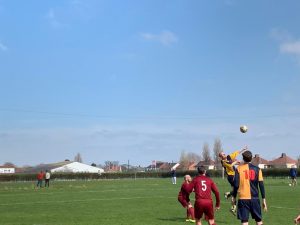 This game, though, started badly. Within ten minutes Hall (hamstring) and Duffy (quad) had departed to leave a big hole in the midfield, and St Mary's Captain Peter had put them one-nil up with a thunderstrike. Things were not looking good. Lewis came on after a delayed family-chores arrival and Harthan came on as seventh choice centre-half. Harthan made an immediate impact, his first surging run giving the ball to the opposition in a dangerous position, his second providing Mornington with the chance to execute a deft flick into the path of Nolan, now playing in midfield. He still had plenty to do but did it and finished well to equalise.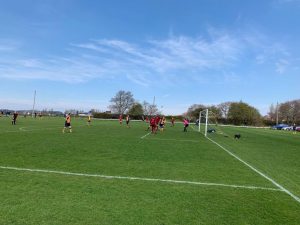 Then came Bodey's curling shot into the top corner, and fact really looked like being stranger than fiction. 2-1 up and cruising? No. The otherwise flawless Doherty was beaten at the near post by Peter whose header also beat the skipper at the near post. Half time and honours even. Probably the best oranges of the season came and went. Lewis asked for permission to return to chores and was told he could go as soon as he had scored.

Soon after the restart Bodey was held back and in the chaos that followed, a jammy goal was conceded. Then, what seemed like a match defining moment came about, Lewis scoring from what seemed to be an onside position but what was adjudged to be offside. That distinction was lost on him, he collected his tracksuit top and headed for the changing rooms. On came Bagley, whose tireless running in the false number 9 position was as effective as it was unexpected.
Gorton was now positioned at left midfield and whilst not quite marauding, he was certainly pushing on. Rushie behind him withstood constant pressure. Mornington (who else) scored twice in succession, Eddie Jones' cross for the winner a precious moment. It was truly backs to the wall defending for the last ten minutes. Keen readers will have noticed that this far into the report, only Pointon has failed to get a mention. He obviously feared that he would remain anonymous and so following a last ditch tackle, executed a marvellous forward roll. "Will I get in the match report for that?" he asked. Here is the answer.
This match was sometimes tense and a little niggly, but what do you expect from local derbies? Hands were shaken and beer taken afterwards. Good season, this one.
Details
| Date | Time | League | Season |
| --- | --- | --- | --- |
| April 6, 2019 | 2:00 pm | Vets XI Fixtures | 2018-19 |
Ground
Moor Lane
14 Moor Ln, Thornton, Liverpool L23 4TW, UK
Liverpool Ramblers Vets XI