Match Report
The fixture computer produced a double header for the first time in living memory, but the Vets managed to assemble a relatively youthful outfit to take on the challenge of a trip to Old Bolts on a Sunday morning that started with heavy dew on the pitch and mist in the air. After his calamitous slip in slippers in the Generation Cup at this ground in May, his teammates were relieved to see that Rushie had brought his boots this time round.
Harthan's hold up in traffic meant that Psycho had time to realise that he had left his boots at Convocation on Saturday, secure a replacement pair from the opposition, find out that a kind soul had brought them from Liverpool, change boots and still make it onto the field of play for the start of the game. The opposition had assembled a team with youth and experience, and had the best of the opening fifteen minutes, but once the Vets got to grips with who was playing where, they started to play some really good football.
Using the "Shepherd in Pollença trick", Russ Hall brought a parent along and the skipper fell to the same emotional blackmail pressure and gave him a starting place. Already streets behind in his attempt to retain the golden boot, it looks as if Mornington will be looking to buy himself a Golden Assists Boot trophy at the end of this season. He passed to Hall whose weakly struck cross was cruelly deflected into the Old Bolts net. Currently the stats show this as a Hall goal ("Please can I have it Nige, I haven't scored for three years?") but the final say will go to the dubious goals panel, this week chaired by his Dad. Willie, please let us know.
Two much better goals soon followed. Mornington layed on the ball for Eddie Jones to apply a cool finish and having swapped places, Killen from right back played the ball to Bob King at right midfield who ended a surging run with a brilliant finish into the bottom corner.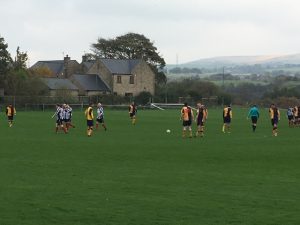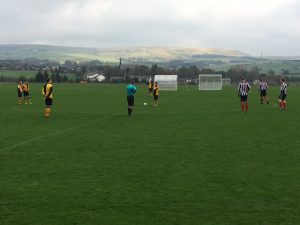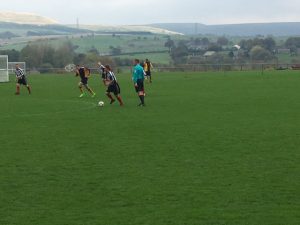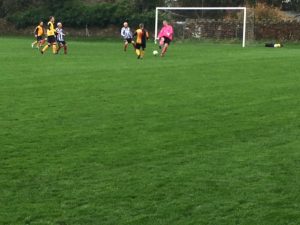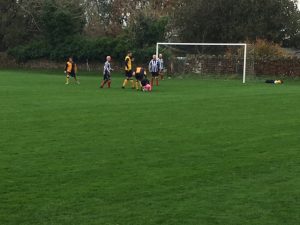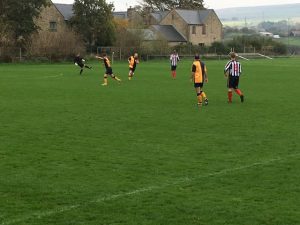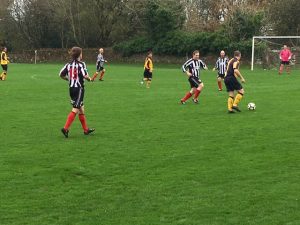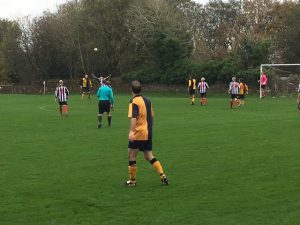 Oranges at half-time transformed the Vets on Saturday, the lack of them having the opposite effect in the second half in Chapeltown. An injunction of hungover youth into the Old Bolts team saw them attack with more determination. Whilst the Vets spurned chances, Mornington hitting a post when it was easier to score and Hall memorably blazing over from 6 yards (don't be fooled by the photo below, it definitely went miles over), at the other end it was a different story.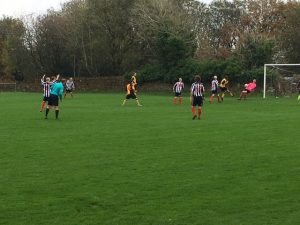 With Sykes replaced as photographer by an ever-present second half drone filming every moment (footage already requested, for now this will have to do … Video), a good comeback goal was followed by Killen being dispossessed / fouled at left back. The ball broke to Harthan, who (yes, this next part is true) spurned the chance to hoof the ball down the pitch and instead passed to Sykes who did not have much space to play in. He too was dispossessed and the ball was crossed to the far post where Killen had remade his ground sufficiently to send a bullet "throat-header" into the net
For the next 15 minutes there was a heady cocktail of mis-control, sliced passes, panic, a little occasional calm and, on his welcome return, Will Thomas putting the ball into touch by nearly clearing it into the next county.
A well deserved win, and special thanks to Rogers, Jones, Mornington and Sykes for turning out in both games this weekend.
Details
| Date | Time | League | Season |
| --- | --- | --- | --- |
| October 15, 2017 | 11:00 am | Vets XI Fixtures | 2017-18 |
Liverpool Ramblers Vets XI