It is with great sadness that we announce that Stuart Hooper died yesterday at just 31 years of age. He was a much loved friend, accomplished footballer and tremendous club man. He will be sorely missed and always remembered by all.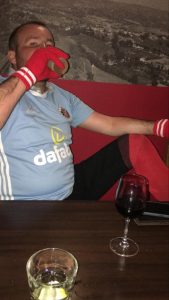 Despite being a Sunderland supporter, he did in fact love all sports.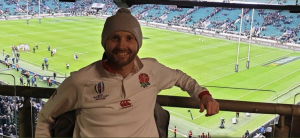 Stuart joined the club in 2015 and made an immediate impact for the 1st XI. In 2016, with Club Captain James Gendall injured, he led the team to victory in the Garrison Cup Final.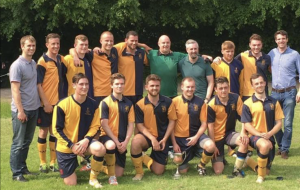 By May 2017 he had become 1st XI and Club Captain and that summer played in the annual Ramblers v Spazmodics cricket match. Stuart was also a very good cricketer and played for our near neighbours at the Northern Club; at the Ramblers he was an extremely popular player, captain and friend.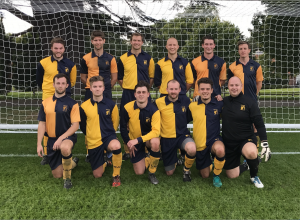 In 2017 the club went to Pollença for the 30th time and took that year as an opportunity to introduce some younger players to the tour in the hope of preserving its longevity, and of course Stuart was an automatic choice given his infectious character and footballing skills. His introduction to the game at half-time changed its complexion until Paul McGuckin's injury ended the game prematurely.
It was when captaining the 1st XI on the Cambridge Tour in the autumn of that year that Stuart snapped his knee ligaments and during his treatment his rather more grave illness was discovered.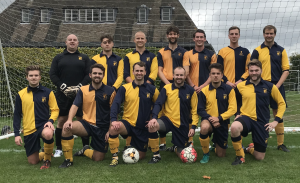 Despite his inability to play, Stuart wasn't for giving up the captaincy and carried on running the team for two hugely enjoyable and successful seasons, managing the side always with a smile, enthusiasm and selfless commitment. He was, of course, there to lift the Garrison Cup again in 2018.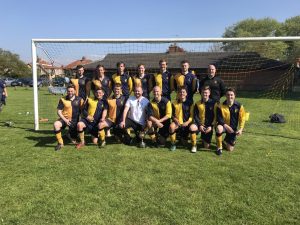 It was always a pleasure, sometimes unexpected, when he and Jade turned up at Moor Lane to watch the lads play, and his ability to point out the calamities remained unchanged. In July 2019 Stu's friends, family and colleagues cycled from coast to coast to raise money for Sarcoma UK (see here: http://lrafc.org/2019/07/coast-to-coast-cycling-for-stu/) and true to form, he was there to cheer home the competitors.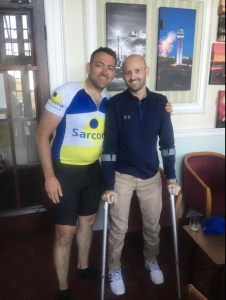 The following month, in glorious sunshine, he married Jade on a truly joyful (if hastily arranged) day.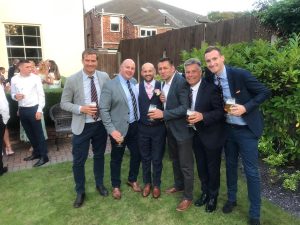 Stuart was a civil engineer by profession, having gained degrees from the Universities of Nottingham and Salford. It is hard to put in to words how brilliantly he did in the most difficult of circumstances, but this video gives at least some insight: https://www.linkedin.com/posts/ice-benevolent-fund_take10-activity-6665532390712188928-J7fF
Liverpool Ramblers AFC send our heartfelt condolences to his family and many friends. He was a great man and will be sorely missed.