Super Veterans' goalkeeper and club stalwart Chris Kingsford reached a milestone for the club yesterday at his alma mater.
In turning out for the newly formed Super Vets against Shrewsbury school 5th XI, Chris began his 50th season playing for Liverpool Ramblers AFC.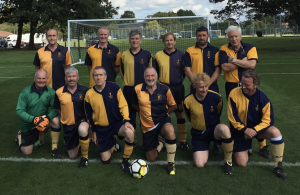 Commenting on this remarkable performance at a brief pre-match presentation, the club President noted that when Chris first played at Shrewsbury the pitch we were playing on had sheep grazing. See the presentation here: IMG_2754
Chris gave the kind of performance we have come to expect of him in a 2-0 defeat. The enthusiastic opposition made up for their relative lack of experience by being an average of 45 years younger than the Super Vets.
Many congratulations to Kingy. Let's hope those new gloves you optimistically bought recently in the Sports Direct never ending sale help give him many more years of service to the club.