Match Report
Five gold rings. Eton Fives. Five go mad in Dorset. Five bar gate. Five loaves and two fishes.
And Five Gold Stars.
It could have been oh so different. With barely five minutes gone, Yatesy bulleted a header which slipped though the keeper's hands. His own keeper's hands. His own stupidly attired virgin white keeper's hands. But the hands, limp though they were, were not quite limp enough to allow Pollença an early lead.  The ball crept over the bar, the corner was cleared, the score remained goalless.
McGuckin, vertical rather than self-indulgently prostrate, started to pull the strings from the middle of the park. Claypole, a reformed character, held the right wing position and held his nerve. The biblical storm that was the precursor to the game, frightening Howat and terrifying McNay, behaved itself. Hall Senior and Pickering Senior behaved themselves too. Hall Junior, who held up play at the start of the game by vaping on the touchline with only one boot on, found his way on to the pitch and within twenty minutes found his way into position.
The opposition were fit, young and talented. They played an attractive brand of intricate passing football. But they were stifled. It was difficult to know who needed half-time more. But when the referee (Collina rather than Dowd) blew up, it gave the Vets valuable breathing space.
And then, when least expected, it happened.Whyte broke down a Pollença attack, travelled forward and laid the ball off to Clay. He found Bodey on the overlap, whose cross was inch-perfect for Chester. Chester's looping header nestled into the side netting. On the inside of the goal. The celebrations were emphatic and muted in equal measure, if that is possible, which it isn't. Everyone in the ground knew that victory was possible. Everyone in the ground knew, too, that it was unlikely if only due to the weight of history.
The last fifteen minutes brought more pressure than David Bowie and Queen created in 1985, which felt like the last time that the Ramblers could have won a star, even though Bagley had earned one in much more recent times. Doherty repelled what the Pollençans created. Mornington tracked back (yes, it is true) to begin defence from attack. Whyte missed an unmissable chance to keep the game alive when it could have had its life withdrawn. Mourhino style time wasting became the order of the day. Still the weather held off. Crutchley could not be held off and replaced Chester to bring fresh legs to the line-up. The final whistle blew before the ambulance was required. Sweat dripped. Tears shed. Men hugged.
The Danish speech proved once more that Boris is a Brexit moderate. Singing in the Rain proved to be possible without Willis. Colin nearly had a heart attack.. Handley didn't go to Chivas. Others did. A phone was lost then found. Murphy unveiled an ostentatious t-shirt. Thunderbolts and lighting, very very frightening, returned. Then and only then did it sink in. We are a club that plays football. But we are also a football club.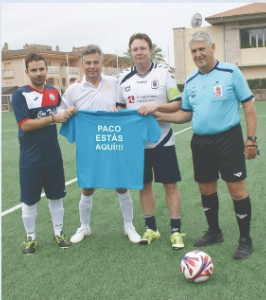 Paco was in our thoughts throughout. We hope to see our friends again in February. We will certainly see them again this time next year, when we will try to keep our winning streak going.
Details
| Date | Time | League | Season |
| --- | --- | --- | --- |
| September 15, 2018 | 6:00 pm | Vets A XI Fixtures | 2018-19 |
Liverpool Ramblers Vets A XI