Match Report
Cristiano Ronaldo has brought in a culture of healthy, clean eating since he returned to Manchester United if reports are to be believed. The vets tour to Pollensa has not been blighted by such nonsense thankfully, and at kick off time on a warm and humid Saturday, with the clouds parting to bathe the Stadio de Futbol Municipal Pollensa, in a glow of golden sunshine, it showed. Chester looked like Amy Winehouse, Jim Byrne looked like Jim Morrison,  the pressie looked like Keith Richards, and Rogers looked like a haggard wookie. With this in mind, and a threadbare touring party it was decided that we were going to be Rafaesque in our tactics,  which is ironic because we were playing against fat Spanish waiters, and some very slim ones too.
McNay was dug up to shore up the right back berth, looking every inch like a fathers for justice Spider man. Power was bedecked head to toe in white looking like a ghostly apparition lingering in this mortal coil spooking his defenders, but we had heart, we had fight, we had a plan, and we had 50 litres of water on standby.
To say that everyone left everything out on the pitch would not be an understatement, we nearly left Chester for dead.
The hosts scored the first goal of the game with a curling top binner, this despite the Ramblers going close on a few occasions and hitting the post earlier on. HT 1-0.
The second half was a frantic affair early on, with the visitors finding it difficult to get out. Despite this we looked dangerous on the break and equalised with a fine effort from Mornington,  his Pollensa cherry finally popped.  In an indication of how invested we were in the game, Hall was witnessed celebrating Jordy's finish. Beer and sun do strange things to people.  Bagpuss was called upon to relieve the maroon faced McNay at right back, and even more alarmingly,  Howat, the poor man's Francis Rossi, was needed late on because Chester had gone into a state of cataclysmic spasticity. Hopkirk deceased made a fine save to keep the scores level, and in a great move the Chairman made a lung busting late surge to get on the end of a cross but could only blaze over with the goal gaping. This was however the only blemish  on an otherwise excellent return for the artist formally known as the Chairman. To a man we were fantastic, and the hosts decided that Jimiesta was our man of the match, I couldn't argue with their decision, but in truth it could have been anyone. A fantastic performance to cap off a fantastic tour.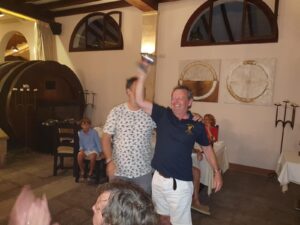 Well toured gentlemen,  well toured.
Details
| Date | Time | League | Season |
| --- | --- | --- | --- |
| September 18, 2021 | 4:00 pm | Vets A XI Fixtures | 2021-22 |
Liverpool Ramblers Vets A XI