Match Report
Sir Alf Ramsey's 1966 World Cup Winners trained on this pitch, so when old Ramblers stalwart Tim Shepherd offered up the fixture it was a no-brainer. A mere 85 miles from Moor Lane made this virtually a home game; we said yes. But when we turned up, the opposition were doing some sort of training warm up and all had the same training tops on. The omens were not good. Happily the famed drainage which Tim only mentioned 8 times in the build up to the game turned out to be worthy of its fame. Few amateur games were played this weekend but this surface was perfect, albeit there was a slight camber not to Claypole's taste. With Lewis still poorly and Mornington resting for next week's marathon, it was Clay himself who started as a lone striker, eager to impress his fiancée, dutifully watching from the Overfinch parked beside the touchline.
The scoring was opened, however, from a rather more unusual source. Clay was brilliantly found by Killen (or maybe Angus Whyte or even Gendall, can't quite remember) but his shot was well saved by the keeper. The ball broke loose for RvP to volley home. Why he was there in the first place was mystery enough, but the calm quality of his finish was surely the bigger surprise.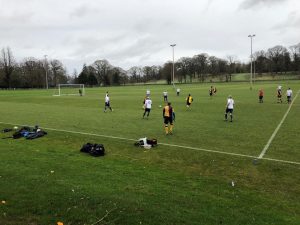 This was no more than the Ramblers deserved, and there should have been two more before the break. There was no doubt about the identity of Whyte, though, who blasted miles high when the keeper misplaced a goal kick (perhaps the camber was to blame) or of Gendall, who broke the defence with a very rapid break, fooled the keeper into diving then rolled the ball into his path. Hall lost his temper when he thought we should have had a corner, but he was calmed by an excellent referee whose conversation never ran dry. At the other end a back four of Bagley, RvP, Gorton and Bagpuss were both well organised and effective. This may sound facetious, but it's not. But just before the break concentration lapsed at a corner and the scores were level.
It was standard fare Sainsbury's at half time but they were good enough to impress the home side, aghast at the innovation. It was a mistake to hand them over at all though, the citrus inspiring first a brilliantly worked free kick manoeuvre, the like of which Terry Venables would have been pleased to have plotted, and secondly a quick break down the other flank which caught the Ramblers sleeping again. Changes were required; Clay was brought back to the flatter part of the pitch in midfield and Crutchley came on for firepower, Hulme replaced Bagpuss for some greater invention at right back. We were back in the game at 3-2, though, when Gendall broke through again at pace, and this time followed up when the keeper misplaced his passback and carried on through to score. This move involved about 0.1% of the 12 kilometres he ran on the day but was impressive nonetheless.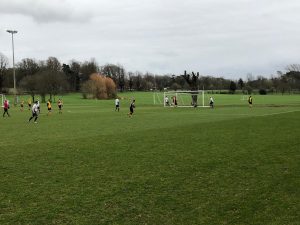 The referee of whom mention was made was asked how long was left. "73 minutes played, 17 to go" he said. The gentlemanly agreement of the usual 40 minutes each way had been lost in the translation but it left more than enough time for an equaliser. RvP was in possession of the ball and was urged to play an easy pass to Eddie Jones, still lean and hungry and in lots of space. But as he proved in the first half, the obvious is not his way. An ambitious pass in the other direction found Priorslee's striker in acres of space and he made no mistake. Perhaps 4-2 flattered them, perhaps it didn't, but these were two well-matched teams who played the game in the right spirit. A return match is already being plotted.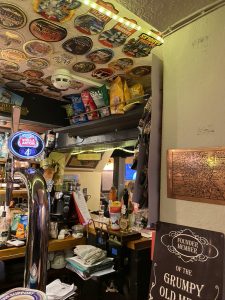 The Wheatsheaf Inn at Chetwynd Aston had received nearly as much attention in the build up as the pitch and did not disappoint either. This was a most excellent away day.
Details
| Date | Time | League | Season |
| --- | --- | --- | --- |
| February 22, 2020 | 2:15 pm | Vets XI Fixtures | 2019-20 |
Liverpool Ramblers Vets XI