Match Report
Whilst foreign travel was still allowed and bars were still open, our friends from Pollença came once more to show us how to the play the game we invented. On Friday night they taught us a lesson or two in how to play another game too, which might just explain Chester's performance the next morning. The kick-off had been brought forward to 10am to allow those interested to watch Liverpool's last Premiership game of the 2019/2020 season, but as that fact was not then known, the much needed boost to the performance levels of the Evertonians in the team failed to show through either.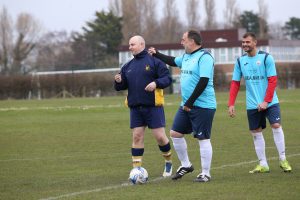 With Big Jim unavoidably delayed, the first five minutes of the match were refereed by Bapguss, and this will be remembered as a golden period of the game during which no goals were conceded. But it was a false dawn, and soon afterwards the story of game unfolded. It would be churlish to record that our guests' number 21 was in fact 21 and has played in the Spanish 3rd division, but we are churlish so let's just say it .He proved to be a bit good, and gave what was an impressive central midfield 3 of Killen, Gendall and Whyte the complete runaround. Two goals of high quality followed with not much apparent threat of reciprocation at the other end.
Whilst the Ramblers eagerly guzzled the Sainsbury's large oranges at half-time, they were not so well regarded by the opposition, who had done less running and had used the unusual tactic of letting the ball do the work. It was also a bit of  busman's holiday of a refreshment choice. Undeterred, they soon made the score 4-0 and the game was effectively over. Or was it?
For the second time in 3 weeks, RvP found himself in the opposition penalty area and lashed a shot that Mornington deflected past the keeper. The Chairman, in a rare cameo, was covering for him at the back. Sadly, none of his 70-yard shots went in but Lewis, back on after being replaced by Crutchley at half time, half-volleyed to make the score 4-2 and hope was revived. But a soft fifth went in and we were playing only for consolation. It came, through an impressive second from Mornington. But that is all it was.
This was nonetheless a great day, and it was a pleasure to see old friends and make new ones. Like the Japanese Prime Minister, the skipper announced that Liverpool Ramblers' Tour to Mallorca  will go ahead as planned in September, despite coronavirus concerns resulting in the postponement of sporting events. "We will overcome the spread of the infection and visit the island without problem, as planned," he said.
We'll see.
Details
| Date | Time | League | Season |
| --- | --- | --- | --- |
| March 7, 2020 | 10:00 am | Vets XI Fixtures | 2019-20 |
Ground
Moor Lane
14 Moor Ln, Thornton, Liverpool L23 4TW, UK
Liverpool Ramblers Vets XI