Match Report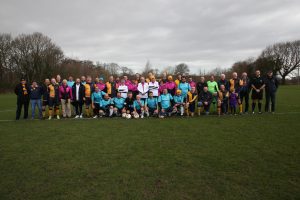 A quick survey of the 2019 touring party in the Pumphouse on Friday night suggested there was rather less youth than the 2018 vintage which had trounced the Vets last year. Most notably it was very pleasing to see Paco here, a non-playing member of the squad only because of a poorly knee. It was equally pleasing to see our guests preparing rather like we do for the away fixture, so far from ideally.
The Vets lined up with a traditional spine, Power – McNay – McGuckin – Crutchley providing experience rather than the first blush of youth. But within 5 minutes of the start, chaos at the heart of the defence handed an excellent chance to Pollença and it was despatched with aplomb.
It was great to see Stu Hooper watching from the sideline but he can't have been impressed. Panic did not, however, set in. A corner was won, Clay took it but it was easily cleared. His second cross was much better and Bodey vowed never to wash his pate after it connected well to equalise. Crutchley rolled back the years with some neat fly its and touches, and he should have scored after doing all the hard work with a shimmying run.
Another corner and the lead was established, this time the ball breaking to RvP who laid the ball on a plate for Mornington 2 yards out. Even he couldn't miss that one.
His second and the Ramblers' third was, though, a classic. Well played in by the evergreen Eddie Jones, he deftly lifted the ball over the keeper's head and then rolled it into the empty net. It almost made you forget the chances he had missed in the mention. Almost, but not quite. He completed his second first-half hat-trick of the season just before half-time to make the game comfortable.
It was especially important to get the oranges right against Spanish opposition but the Skipper fouled up, the standard Tesco Express option disappointing. Very tart and only 5/10 was the analysis. Waitrose or M&S next week.
At midnight in the Steak House, Lewis could still be heard from Cheshire bemoaning his luck when introduced. A clever shot struck the bar and he headed the rebound into the arms of the keeper, who was deep inside his own goal. But the referee is always right, remember.
For the second time in the game, Tete went down squealing in agony, apparently because of injury rather than seeing the newly ripped Claypole score with a left foot chip. The sixth came right at the end from a most unfortunate own goal from probably the shortest man ever to play at Moor Lane, off the shin rather than the yellow Ramblers beanie he hd been wearing all game.
So an emphatic win but more importantly, old friendships renewed and hew ones forged. Only 196 days until Pollença 32 …
Details
| Date | Time | League | Season |
| --- | --- | --- | --- |
| March 2, 2019 | 2:00 pm | Vets A XI Fixtures | 2018-19 |
Ground
Moor Lane
14 Moor Ln, Thornton, Liverpool L23 4TW, UK
Liverpool Ramblers Vets A XI