Match Report
With H.A.C. struggling for numbers, the gods mobilised to lay on a local derby, albeit played behind closed doors. Some effective recruitment at the President's Dinner the night before led to an embarrassment of riches, and James Gendall's brother, to take the field in an attempt to beat our old rivals at the fourth attempt this season. A first half of high quality failed to produce goals but plenty of incident. King was marauding effectively down the left flank with gay abandon, which was a risky strategy with their best player drifting down their left flank. But Phil was flattering to deceive, and McGuckin and Duffy at centre-half steadied the ship. There was even a save or two from the skipper. But overall we had the lion's share of possession and control of the game.
The Department of Health guidance on half-time refreshment stipulated that individual self-peelers were the only oranges allowed, and the successful search had taken the captain to the Waterloo Co-Op. They were quite possibly the best of his three-year rein at the helm of the club's blue ribband team. Perhaps too much is read into the effect of half-time oranges, but taste bud sensations is all that these brought.
With things still even-stevens, the same old story was retold. Gorton and Phil had hold of each other down the left flank. They tussled into the box and Phil went down. It was a penalty as soft as the centre of a Ferrero Rocher. Phil calmly rolled the penalty into the bottom corner. Slack defending allowed a second, and the third produced a brilliant finish from Caggsie; think Trevor Brooking away at Hungary in November 1981 (opposite stantion, though). Keeper had no chance; but who was marking him? This picture doesn't help.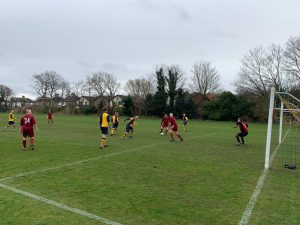 There was a fight-back of sorts. Dave Gendall proved that the magic Gendall gene has been isolated in the male stream in front of goal; he successfully chased down a ball to the Mary's keeper Danny, who lost control allowed the second Gendall to prove Joseph Addison right; he who hesitates is lost. The ball was cleared as he decided which part of the empty goal to aim at. Hope was lost too.
Convocation Away next week. That's the plan at least.
Details
| Date | Time | League | Season |
| --- | --- | --- | --- |
| March 14, 2020 | 2:00 pm | Vets A XI Fixtures | 2019-20 |
Ground
Moor Lane
14 Moor Ln, Thornton, Liverpool L23 4TW, UK
Liverpool Ramblers Vets A XI