Match Report
A local derby on the Saturday before Christmas, what could go wrong? Well the starting line-up needed late alteration when Psycho's talents were claimed by the 2nd XI and the Chairman found himself unable to tie up his laces. This catapulted Bagpuss into a start at right back and moved Bodey into his email-demanding midfield role once more.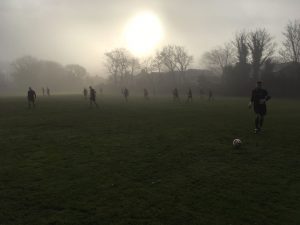 In the opening exchanges the Vets managed to curb their festive spirit and keep, rather than give away, the ball. Gorton was organising the back four well and the passing was a good; but the temptation to try the Hollywood pass or flick could not be resisted and a number of promising moves fell down inthe last third.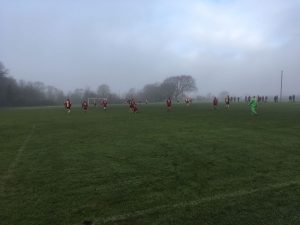 Though the Vets had the better of the possession, St Mary's had the better chances, but the defence held firm and the score at half-time was a particularly unusual 0-0.
The half-time oranges did the trick. Problem was, most were shared with the opposition and they took the lead with a rather fortunate break which led to a neat cross and an unstoppable header. Then came the defining moment of the match, perhaps the season (OK, a bit of hyperbole there). Bodey, by now restored to right back, launched a surging run down the wing, put in an inch perfect cross and Mornington managed to overcome the crisis of confidence that his customary-first-half-closed-eyes-headed-sitter-miss might have produced and tucked the ball neatly home. It was a calm finish that calmed the Vets' nerves.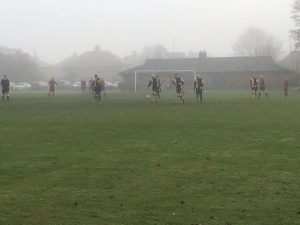 Fingers crossed that Santa brings some new boots to Ince Blundell this Christmas, to avoid the sort of unfair advantage allegation that put the Vets ahead. The Chairman, now on the pitch, launched a meek effort goalwards. It was an ineffectual effort but it came from luminous green boots which dazzled the St Mary's keeper's eyes and caused him to misread the flight. Still, a goal's a goal, even if it came from the only non-black boots on the pitch.
A third goal came from a McGuckin free kick, expertly despatched to the far post where Bodey, ideas above his station once more, appeared to head home.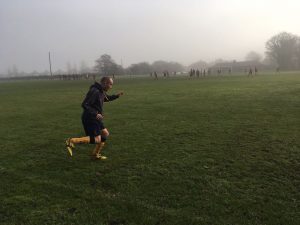 St Mary's rallied but the Vets held firm. This was a great win.
Happy Christmas everyone, see you for Woolton Vets at home on the 6th January 2018.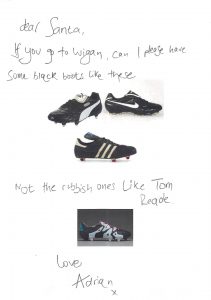 The St Mary's Report …
SMOB v Liverpool Ramblers     Dec 23 2017
Result: Liverpool Ramblers 3    SMOB 1
Team: Lewis, Worrell, Dewey, Harvey, Johnston, Monaghan, Fletcher S., McCullough, Chambers, Johnson, Stringer B.
Subs. Byrne, Fletcher A., O'Shaugnessy, Smethen, Lennon, Carragher
We ended 2017 with a Derby Match against our long term rivals Liverpool Ramblers. Despite some concerns about the state of the pitch, in good weather conditions, it was certainly not the worst pitch we have played on this year. Ramblers as you would expect of them, were very fit and the game was played at a high tempo with both teams getting up and down the pitch quite rapidly. They had some pacy players up front who were found by long balls into the corners, which as you would expect, on most occasions were tidied up by Gary. When they did manage to get on the end of these passes, their crosses were dealt with very effectively by Joe and Terry. Joe in particular had a terrific game at centre half winning tackles and headers when they tried to attack down the middle of the pitch
As we have done for the past several games we play well, pass the ball around but get a little impatient and give the ball away before we have an end product i.e. a cross into the box or a shot at goal. Having said that we still had several good opportunities to score goals. Their goalkeeper Nigel (QC) without doubt kept them in the game, making some excellent saves and standing up to our attackers to make it difficult for them to hit the back of the net. Phil in particular had a couple of one v ones with the keeper, but Nigel did not commit himself and left Phil in two minds about what to do which was enough to deny us a goal.
At the other end of the pitch although they did have some pressure, Terry did not really have a difficult save to make. It was routine catching which Terry now does with some aplomb (famous last words!)
Half Time 0 – 0
It was a good game with SMOB having a slight edge in terms of goal chances and possession. However, Ramblers had enough ability to cause us more problems and we had to try to maintain our discipline particularly when defending after losing possession.
Ged made some more subs with Andy F. coming on for Bernie, Paul on for Tony W., Mark for Joe, Des for Tony and Cagsey for Ian NOT SURE HOW STEVE WAS REPLACED could be Joe stayed on?
Andrew F. came on and his persistence in the penalty area after several attempted tackles enabled him to get a looping cross to the far past which you may have expected Bernie to head in, was in fact put away by a soaring header from Phil! (slight exaggeration!) Hopefully this was the breakthrough we needed, however, in effect it acted as a catalyst for Ramblers! Although we had more shots on goal, again Nigel (QC) denied us that one more goal. This was a turning point in the game. Whether we lost concentration or whether we had become over confident we failed to capitalize on our lead and they started to put pressure on our defence. Within 10 mins they had scored 3 goals. Everyone was shell shocked and we were unable to respond with any goals of our own. We continued to press but the stuffing ( festive joke for Des) was knocked out of us! We continued to press but could not get the ball in the back of their net. Although it was an enjoyable game it was frustrating to lose considering the chances and pressure we had exerted on their defence. However, the excellent sausage and beans and rolls were some consolation! Roll on the New Year! Happy Christmas to everyone!
MoM Joe Harvey what do you think Sandy?
Details
| Date | Time | League | Season |
| --- | --- | --- | --- |
| December 23, 2017 | 10:00 am | Vets XI Fixtures | 2017-18 |
Ground
Moor Lane
14 Moor Ln, Thornton, Liverpool L23 4TW, UK
Liverpool Ramblers Vets XI