It is with great sadness that we announce that Barry Burns, one of the true greats, has passed away.
Here is what was written about him in Jo Russell's book … with some updates and other tributes following:
Barry Burns (President 1998-2000) was a good ball-playing right-winger with infectious enthusiasm, whose positional sense was arguably his greatest attribute. He believed in hugging the touchline and allowing the ball to do the work. Letting the defence defend meant that he was always available for the early ball. This left the opposing full-back in a quandary, uncertain whether to 'man mark' and be taken out of the game or to remain too far away to prevent his pinpoint passes. Barry often helped out in goal, where his hands were used only in extremis.
As captain of the 2nd XI he was full of excitement and encouragement. He eagerly looked forward to each Saturday with heightened anticipation, checking with the opposition as to the type of team they were putting out or the length of the grass the Ramblers would be playing on. There were no half measures expressed after the game. Favourite expressions included 'quite brilliant', 'dreadful', 'amazing', 'worst ever' or 'best ever', accompanied by a gin and bitter lemon. When Jimmy was playing, his father's shout from the touchline of 'Good ball, Jimmy!' would often be heard.
His three-a-side games in his back garden on Sundays, involving many young Ramblers – including Chris Kingsford, Peter Woodhead and Richard Millichap – were like being back at school. The roses were decimated.
At the age of 45 he played for all four XIs in the 1982-83 season, before playing his final game in 1989 against Southport, watched by a crowd of three.  For many years Barry ran his team, Burns Bashers, at the Ramblers Easter Festival. Containing a mix of schoolboys and football masters, it won the Boot on seven occasions.
On one occasion when Jimmy Burns was captain of the Ramblers 1st XI, Barry came to watch, but, as always, brought his kit, just in case. With a no-show from Richard Fraser, he was on from the start. As usual, Barry patrolled the touchline, chatted away to Peter Wood, the football master, but never touched the ball during the first fifteen minutes.  At a throw-in, the school full-back looked unsure whether to mark Barry and approached him. 'Excuse me Sir, are you playing in this game?' Richard Fraser arrived after 25 minutes to replace Barry, who still hadn't touched the ball.
In a game at Hulme GS the ball became stuck in a tree beside the pitch. The game stopped while a master started shaking the tree, but to no avail. Suddenly there was a shout, and a man who had been painting the outside of his house came running over with his ladder, zipped up the tree like Tarzan and retrieved the ball. Barry was very impressed and told him that he looked amazingly agile. 'So would you be if you were married to Fatima Whitbread,' was the reply.
At Bootham there was a football master who refereed. Barry remembers that he paid no heed to any fouls from his team, with the cry of, 'Carry on boys, keep playing.' Every time the Ramblers attacked he told the school full-backs to move up. On each occasion the whistle was duly blown with the Ramblers being 'allegedly' caught offside.
ISFA
Barry took over as Schools Secretary in 1971 for seven years, and in 1978 was appointed onto the Executive Committee of the Independent Schools Football Association (ISFA) on the recommendation of Robin Trimby, the ex-Shrewsbury football master. Robin reckons that this was one of the best decisions he has ever taken on football matters, and has praised Barry for the objective advice and opinions he was has been able to give in shaping ISFA policy. This was is probably helped by the fact that Barry was is the only member of the Committee who was not to be a football master.
He started the Barry Burns Northern Eights in 2006, which continues to be sponsored by Barry and Jimmy. For the last two years there have been 24 teams participating in the tournament, held at King's School, Chester. After the presentation of the Cup in 2011, Mark Dickson saw one of the boys point at Barry and overheard him saying to his friend, 'I think that's THE Barry Burns,' to which the other one replied,  'No, don't be stupid, he's dead.'
In February 2013 Barry received a letter from ISFA's Chairman David Elleray, ex-Premier League referee and Harrow schoolmaster. He wrote that they had created a new position of President, specially in honour of Barry 'in recognition of his quite outstanding contribution to independent schools football.'
Barry always recognised that the success of the Ramblers and its future depended on the relationship with the independent football schools. To this end, Barry's presence at the schools and his friendships with the football masters successfully kept the Ramblers in the spotlight. Mark  Dickson,  Chief Executive of ISFA,  knows 'that there has been and exists a huge respect and fondness for Barry among the schools, and that there have been several occasions over the years where his presence on the touchline has helped smooth matters.'
The rise in the number of school fixtures began in the 1970s, with the high point reached in 1986, when Ramblers played Wolverhampton GS, Repton, Shrewsbury, Burnley GS, Malvern, Bradfield, Hulme GS, Manchester GS, Bolton GS, QEGS Blackburn, Northern Schools, Bury GS, Clitheroe GS, Chigwell, Charterhouse and King's, Chester.
For a number of reasons, mainly health and safety concerns and a crowded fixture list including Cup competitions, a lot of schools have found it impossible to continue with their traditional matches. Now there are only six schools fixtures but as Mark Dickson has said, 'That is probably six more than other clubs have, with many of them either having had to resort to playing in leagues or being no longer in existence. Barry has successfully kept a high profile for the Ramblers.'
Barry's unheralded ambassadorial role, mostly away from Moor Lane, has proved pivotal to the Club' s strength and reputation over the years. The Ramblers can be proud that through Barry, as the first President of ISFA,  the Club will more than ever be uniquely represented at the top table of schools football. Liverpool Ramblers has a lot to thank him for.
Grant Lazarus writes:
When Jo Russell is planning his inevitable 2nd Edition, he may wish to consider revising the entry for F Barry Burns, whose last game was not at Southport in 1989, but was for the Vets in Mallorca during his Presidency in 1999.  We were on the huge old shale pitch, and Barry played the first 15 minutes in his usual position anchored to the half way line out on the right wing. From the goal line, I could hear his famous and incessant cry of "to feet; to feeeeeeet".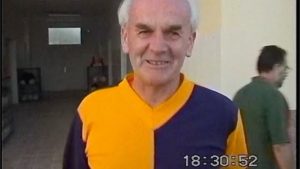 The story of how we came back from 0-3 at half time to a thrilling 3-3 draw is for another post.
I had the very great pleasure to serve as Chairman during Barry's Presidency. His devotion to the Ramblers was deep. He was definitely one of our greatest.
Sean Duncan writes:
Indeed a very lovely man, a fine winger and a truly wonderful Rambler.
Barry was absolutely great at liaising with the schools and we kept many a fixture because of his school contacts. He had some FA schools connection which also helped us. Barry was an enthusiast for all that was good in football and the Ramblers. His Easter Festival team ,the Burns Bashers , was a vital part of the scene for many years. One of his other loves was the cinema.
The Ramblers will be the poorer without him.