The Ramblers were delighted to be part of the St Mary's College Festive Music Reunion & Sports Day 2019 in its Centenary year.
Unfortunately the elements were against the game being played at Moor Lane but the fixture was quickly moved to the Astro at JMO Skelmersdale where an entertaining game was played out. An early mix up between Jon Duffy (70% blame) and Russ Hall (30% blame) gifted St Mary's the opener with two minutes' gone and ten minutes later Harry Howat was instrumental in making it 2-0: "Harry Howat with the ball down the line and Ethan McHugh crosses; Ben Blackburn with a great header. Keeper had no chance." says the St Mary's Twitter feed and that must be true.
Some profligate finishing in the second half by the galacticos past and present Mornington and Holt, and an even worse miss by Killen, meant the score remained 2-0 at the finish, but this was a great game played in just the right spirit.
The President took this photo …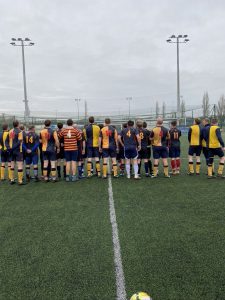 but luckily someone was on hand to point him the right way round …

The Ramblers' line up was Louis Holt, Brett Phipps, Lee Whittingham, Fergus Cowper, Liam Doherty, Nigel Power, Jon Duffy, Jordan Mornington, Ben Handley, Eddie Jones, Peter Killen and Russ Hall. Thanks to Jordan Mornington and John Armstrong for organising the match and Jim Thompson for refereeing.