When Captain Mornington announced his XI for the annual cricket match against the Spasmodics, a ripple of anticipation was palpable. Howat, Byrne, Kennedy and Power, oh how things could improve after last year's dramatic tie. When news emerged, however, that only Kennedy was Jnr and the rest were Snr, optimism turned to realism. And Kennedy Senior was actually a good player back in the day (though last seen playing for the Liverpool Bar CC some time in the last century).
The toss having been won, the World Cup trend was bucked and the Ramblers chose to field. Rogers opened the bowling with Prescott, with mixed results. Will Thomas entered the fray and risked never being picked again by allowing Clay to hit his first ball for six. He redeemed himself, however, with a succession of wides which were more tricky to smite. Jim Byrne's energetic leg spin was probably the highlight of the session, though it was just as well that he completed his overs when he did as soon afterwards he "spilled" a chance which was travelling so quickly that the bruising and swelling on his hands could take until next year's fixture to subside. Jamie Thompson's limping death bowling kept the score respectable. Well almost.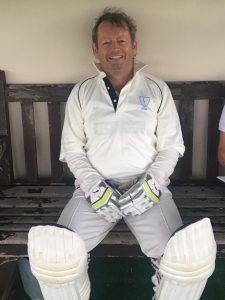 An unlikely 173 was the target set, after Bibby had also played some nice shots. Part of the problem was getting rid of France quickly, unlike last year when his protracted slow-scoring spell at the crease evened the sides up.
Rogers and Lewis gave the ball some wallop, Byrne impersonated France 2019 and Bagpuss actually looked OK. But the total was always just a bit too far away, despite the Brains Trust plotting an extravagant miracle.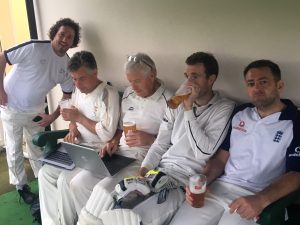 Thanks to Mornington and Clay in particular for making the fixture happen, and to Hightown CC for hosting. Rain seems to stay away from this fixture but good light is never a feature. That's tempted fate for next year.
And thanks to this splendid XI:
Jordan Mornington
Nigel Power
Stephen Lewis
Jamie Thompson
Dan Wise
Martin Prescott
Peter Howat
Peter Kennedy
Will Thomas
Jim Byrne
Adrian Rogers